As Russia celebrates Hitler's defeat, Stalin's chost is haunting Putin
By Anna Nemtsova
MOSCOW—Early Thursday morning, the Russian capital woke to the sound of music played every May 9, the day this country marked as the end of World War II. "This is our Victory Day. The smell of gunpowder. … The joy, with tears in our eyes."
Adolph Hitler's invasion of the Soviet Union in 1941, "Operation Barbarossa," was answered with ferocious resistance that, through long years of combat and sieges, cost tens of millions of lives. But most of Europe dates the beginning of the war to 1939, partly because of a nonaggression pact that Soviet dictator Joseph Stalin made with Hitler that opened the way for him to invade Poland. That was followed by the subjugation of France and the Battle of Britain. Stalin's repression and purges meanwhile had killed millions of his own subjects in the 1930s.
Both men were tyrants who wrought carnage on a scale never before seen in modern times, and almost every Russian family lost someone during the fateful decades of their rule. So it is not surprising at all that Russia would outlaw anything resembling a "rehabilitation of Nazism." But it is a sad, disturbing sign of resurgent autocracy under President Vladimir Putin that the crimes of Stalinism not only are ignored, the Soviet dictator who died in 1953 is increasingly revered as a hero. This, even though Putin himself is not a Stalin fan.
At noon on Thursday, a river of red Communist flags decorated with the hammer and sickle streamed across downtown Moscow and a giant banner with Stalin's portrait floated above the demonstration.
The admiration is not for an ideology but for the strongman who claimed to represent it, and who drove the country to defeat the invader.
Putin has criticized Stalin's repression in the 1930s, and has long said that communism doomed itself, forcing Russia to fall behind advanced countries, calling it "a blind alley, far away from the mainstream of the world's civilization." But walking around Moscow's center on Friday, one would think that the Party and Stalin were back in power.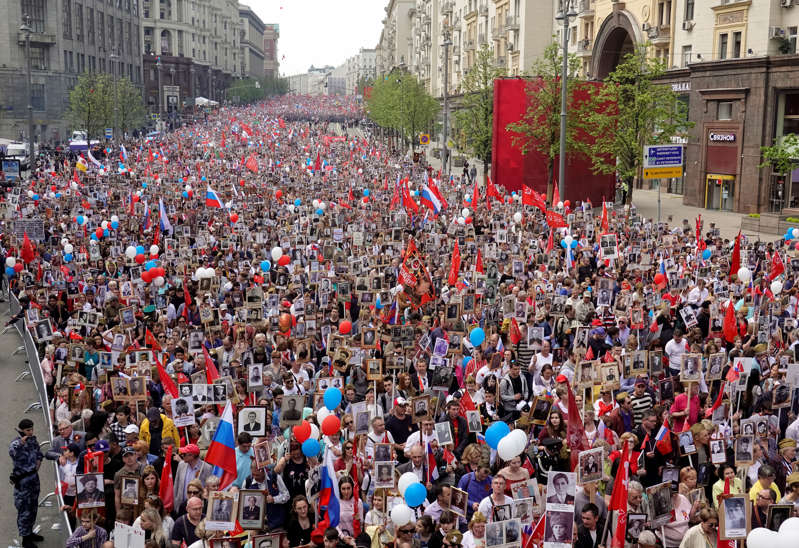 Thomson Reuters Participants carry portraits of people, including Red Army soldiers, during the Immortal Regiment march on the Victory Day, marking the anniversary of the victory over Nazi Germany in World War Two, in central Moscow, Russia May 9, 2019. REUTERS/Tatyana Makeyeva
The "Immortal Regiment" is the biggest civil patriotic movement of President Putin's rule. But this year the Kremlin organizers asked the Communists not to bring images of Stalin to the event. Apparently there's a realization that the public passion for the Stalin cult may be getting out of control. "They must have understood that the popularity of Stalin in Russia means nothing but a vote of censure for Putin," Kotsyubinsky told The Daily Beast.